We are continuing to meet via Zoom!
Upcoming speakers may change during this time so the club calendar may not always be current.  You will be sent an email prior to each video meeting with a link to the meeting. For security reasons that will not be posted to the website..Thank you for your patience.We hope you are all well and staying safe and healthy. If you are in home isolation and  need any help please contact President Carolyn.
Zoom meetings are recorded, so check our video page for this year to view any meeting.
Club Photo taken by a drone!
Club Speaker Malcolm King took this photo of us with his camera mounted to a quad copter drone. Thanks Malcolm!
For over 40 years the Rotary Club of Livermore has presented the annual Rodeo Parade on the second Saturday in June, starting at 10 a.m. 2018 was the 100th annual Livermore Rodeo, and the parade was bigger and better than ever, beginning with a cattle drive! Don't miss next year's parade! We thank our sponsors for their continuing support!
Senior Work Day
Club members and friends gather at the Rotary bandstand before heading out to help senior citizens with yard work, minor home repairs and other tasks they are unable to do themselves.
Supporting Burned Children of the Americas @ COANIQUEM
Our club sponsors the care and rehabilitation of children with burns who seek treatment at COANIQUEM in Santiago, Chile.
The READY program provides tutoring and mentoring to students at Junction K-8 school. Field trips such as this are a big hit!
Raising Money for the Rotarian Foundation of Livermore
We support the Rotarian Foundation of Livermore in raising money to provide grants to other local organizations.
Each year we distribute $16000+ in grants to community organizations and our schools. Pictured are recipients of January, 2019.
Renovating a Home
This was a special project. Rotarians renovated a home to improve accessibility for a disabled woman.
Dictionary Project
For fifteen years we have given each third grade student in Livermore public schools a beautiful dictionary.
Ice Cream Social at Marylin Avenue "Back to School" night
2018 was the first year we've had an Ice Cream Social, after many years serving a bar-b-que dinner. The event encourages families to attend the school's Open House and visit with their children's teachers.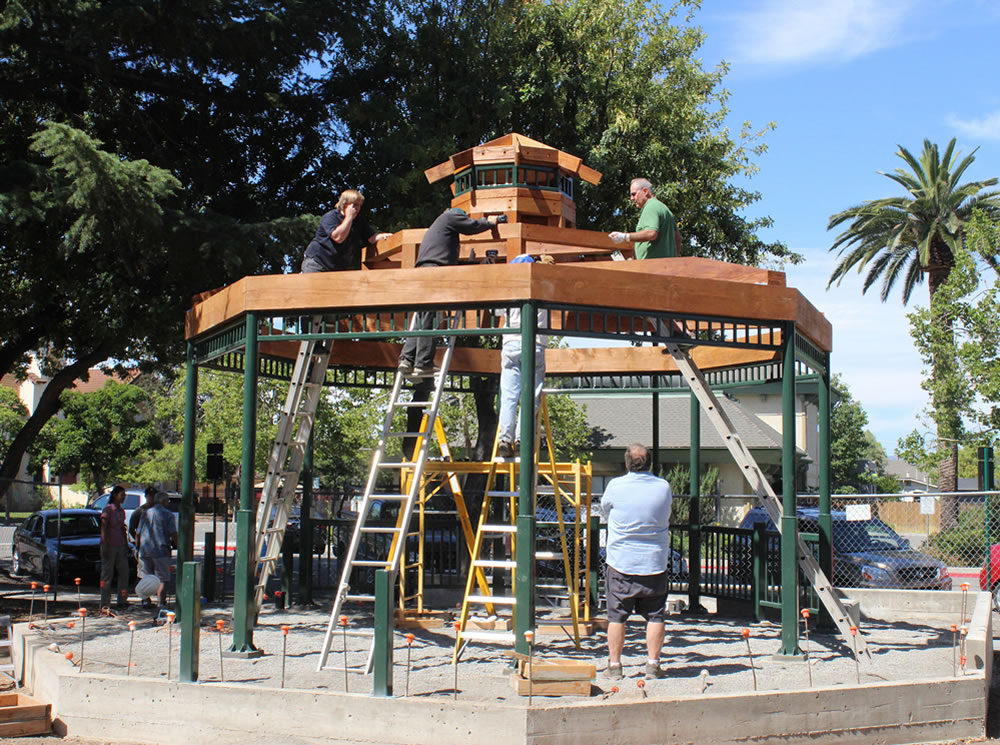 Bandstand Construction
Hundreds of hours were spent building this gift to the community. Both Rotary Clubs, the RFL and many local contactors donated time and money.
Supporting the RFL Party for Deserving Children
For six years the club has supported the Rotarian Foundation of Livermore's party for underprivileged children.
Trip to the San Jose Tech Museum
READY students joined others in a wonderful trip to the museum, as part of our club initiated STEM scholarship program.
RAVE
RAVE is a much needed charitable program to assist our military veterans attain their educational goals by way of the G.I. Bill of Rights. It is a 501(c)(3)approved non-profit tax deductible program that is spear-headed by the Livermore Rotary Club.
Outstanding Educators 2019
On May 8, 2019 the Rotary Club of Livermore honored nineteen teachers from the Livermore Valley Joint Unified School District for their service. For the past 15 years, the Rotary Club has recognized teachers from each school and one Administrator from the district. The Principals and staff at each school choose their recipients. The Superintendent of Schools, Kelly Bowers, selects the Administrator.
Rotarian Foundation of Livermore grants
This year the Rotarian Foundation of Livermore (RFL) awarded grants totaling $45,203 to eleven community organizations at the Rotary Club of Livermore meeting.
Planting trees with the Boy Scouts
Rotarians and friends worked with Nicholas Carrano and his troop on his Eagle project, planting trees and moving mulch at Independence Park in Livermore.
Youth in Government
Students from our local high schools spend a morning job-shadowing local government staff and first-responders to get a first hand look into the City Government operations. They are then invited to our luncheon, where they introduce themselves to the club and are treated to a State of the City program presented by the City Manager.
Students from International House
For more than 50 years our club has partnered with International House at UC Berkeley to provide the opportunity for international students to experience small town California and stay with a typical American family. Students visit landmark institutions in the community and are treated to an old fashioned "Pot Luck" dinner party.
Students of the Month
Livermore, Del Valle, and Vineyard high schools' staffs select outstanding students to be honored at a luncheon each month. The students receive a plaque and gifts from local businesses. Pictured is India D'Souza, Outstanding Student in October of this year, with LHS Principal Vicky Skudder.
Sunflower Hill
Sunflower Hill is an organization which focuses on children and adults with special needs, primarily on the autism spectrum. There is a community garden where participants plant and harvest vegetables for their own consumption and which are also sold to the public. Our club built picnic tables for them and helped build a new greenhouse last year.
Music Scholarships
For 15 years we have provided scholarships to music students in 8th -12th grade for lessons, camp, instrument rentals, and more. In 2018 we received 44 applications, funded 22 of them, for a total of $6000. Money is raised through music benefit concerts and generous donations.
Club Speech Contest
Each February we hold a club-level speech contest. Besides a monetary prize, the winner goes on to compete at the District Level. 2019 contestants were Ashley Porter, Gino Barbalendaro, and Kade Murphy. First place went to Ashley and she competed in the Area 4 contest. She did well!
The Rotary Club of Livermore is located in the historic Livermore Valley community of Livermore, California. The Livermore Rotary Club is one of over 35,000 Rotary International clubs (one of the 53 clubs in District 5170) and is dedicated to serving the local community in various ways which benefit a wide variety of charitable activities. Click here for more information about Rotary!
President Carolyn Siegfried

2020-2021
Rotarian of the Year:Glenn Kubiak
Welcome New Member
Norm Bregman
2/12/20
---

John Shirley Award – Pat Coyle
Welcome New Member
Jeffrey Youngsma
2/19/20
---